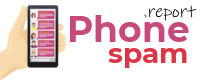 ALL PHONE SPAM REPORTS
That has been posted on our website, displayed at one place!
If any of the phone numbers listed below called or texted you, do not hesitate to report it too!
HOW TO REPORT THE PHONE NUMBER?
1) Find it in the list below and click on "VIEW DETAILS" button.
2) Scroll down and use the Reverse Phone Lookup Form to search.
3) Visit ADD SPAM Report page and post it directly.
The Structure of this page changed!
Follow the new structure please.