Welcome to
PhoneSpam.Report
FREE Reverse Phone Lookup Directory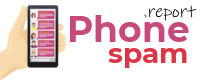 Learn more About Us!
FIGHTING with
PHONE SPAM is our
SPECIALITY!
How to report phone scam or spam?
Do you want to report phone number for scammy or spammy behavior? If your answer is yes, first of all, we would like to thank you because it is very generous that you decide to help others find out valuable info about whoever is calling or texting from that phone.
Because you are now browsing our website, the easiest way to report this phone is to visit our ADD SPAM REPORT page and submit the report with a comment directly to us.
The next option is to file a complaint to the following authorities.
To get better protection against phone scams, you should also register your phone number at Do Not Call Registry. It is a free service that may help you block some of the telemarketers from calling you.
We also recommend you to watch the following video made by FTC.